Explore vibrant, statement-making looks for chic tomboys -- conversation-starting style

THE KIT is always essential, never basic
---
Founder and Creative Director | Daniel Vosovic
We've all had the painful experience of knowing in our hearts that we're on the wrong path, that we need to make a change but the fear of the unknown is holding us back: in a relationship, a job... I mean have you ever dated the wrong person for too long and knew it? Yeah, that's what I'm talking about. That distinct feeling of incorrigible 'wrongness' is painful to come to terms with. After a decade of working in the fashion industry, I had come to realize that my passion was completely dependent upon a system that didn't make any sense to me anymore. It was messy, overly complicated, prohibitively expensive and wasteful at almost every level.
When I talk about the experience of "flipping the table" I speak of my realization of trying (and failing) to reconfigure the same things over and over again. I spent years moving the same pieces around: showrooms, PR agencies, department store exclusives, and so on. I finally concluded that I needed a clean slate...to flip the table. I had to give myself the one thing that the fashion world doesn't allow... time. Time to determine whether or not my passion for designing clothes was still alive. Was there another way to create clothes that didn't disregard the planet or the people in it? Was I satisfied working in an industry that was becoming increasingly harmful to the creatives that nourished it? It took a year to fully separate myself from the framework of an industry that had morphed into something full of waste and a disregard for what made it great. Not wanting to make a decision based on fear or conform to a predetermined path, I forced myself to embrace the feeling of not knowing what to do next -- only then could I come to a conclusion of what I

did

want to do. The practice of "flipping the table" allowed me to build a clear idea of the road I wanted to take. Over the next two years, I moved from an idea to a plan, and eventually, to THE KIT.
---
T

HE KIT. lives for a statement-making print.

Each week in our design studio we create dozens of new prints from scratch. Deep, richly-detailed florals and bold color blocking to sleek plaids and abstract splatter prints all begin at the same place, our imaginations.
We not only introduce brand new bodies every month or two, but are continually refining our most popular ones based off your feedback, so please don't hesitate to tell us what works and what doesn't. Bold tomboy styles that crackle with effortless confidence and color is the name of the game here at THE KIT, so whether you're searching for a unique twist on a classic style, or something truly unexpected, THE KIT has it. Day to night, office to play, we don't know what that means anymore but we aim to dress you for all of it just the same. With newness every week in our constant product drops you have dozens of bold, colorful reasons to finally say goodbye to those boring closet "staples" because honestly, you have enough basics.
---
---
We've made it our mission to build the most sustainable brand possible. Using a vertically-integrated facility, we embrace the nimble efficiency of fast fashion, but reject the oversaturated production that proliferates that industry. Our facilities exist all under one roof: from creation to production through fulfillment, which means less of a carbon footprint produced by each step -- our only transportation step occurs when the finished piece is shipped directly from our facility in the Dominican Republic to your door. Partnering with Resonance gives us the ability to produce a single item as efficiently as a thousand, we don't make a garment until a customer orders it. All the wasted water, ink, electricity, gas, and manpower that goes into the billions of unsold, overstock garments produced by the industry each year is conserved through our process.
We digitally print every garment that is created for THE KIT. From the tropical, multi-colored Black Camellia to the color-blocked Lilac Cut Paper (seen above), all of our prints start from the same place: a single ream of white fabric. We use a fraction of the water required by conventional printing processes and are working to eventually use less water per garment than any other brand on the market. As we continually update our methods, we will bring even more sustainable up-cycled materials into the fold. For now, we mitigate our use of fabric by waiting until a garment is ordered to allocate fabric for it. No inch of fabric, nor drop of ink or water is used for a garment that doesn't already have a home.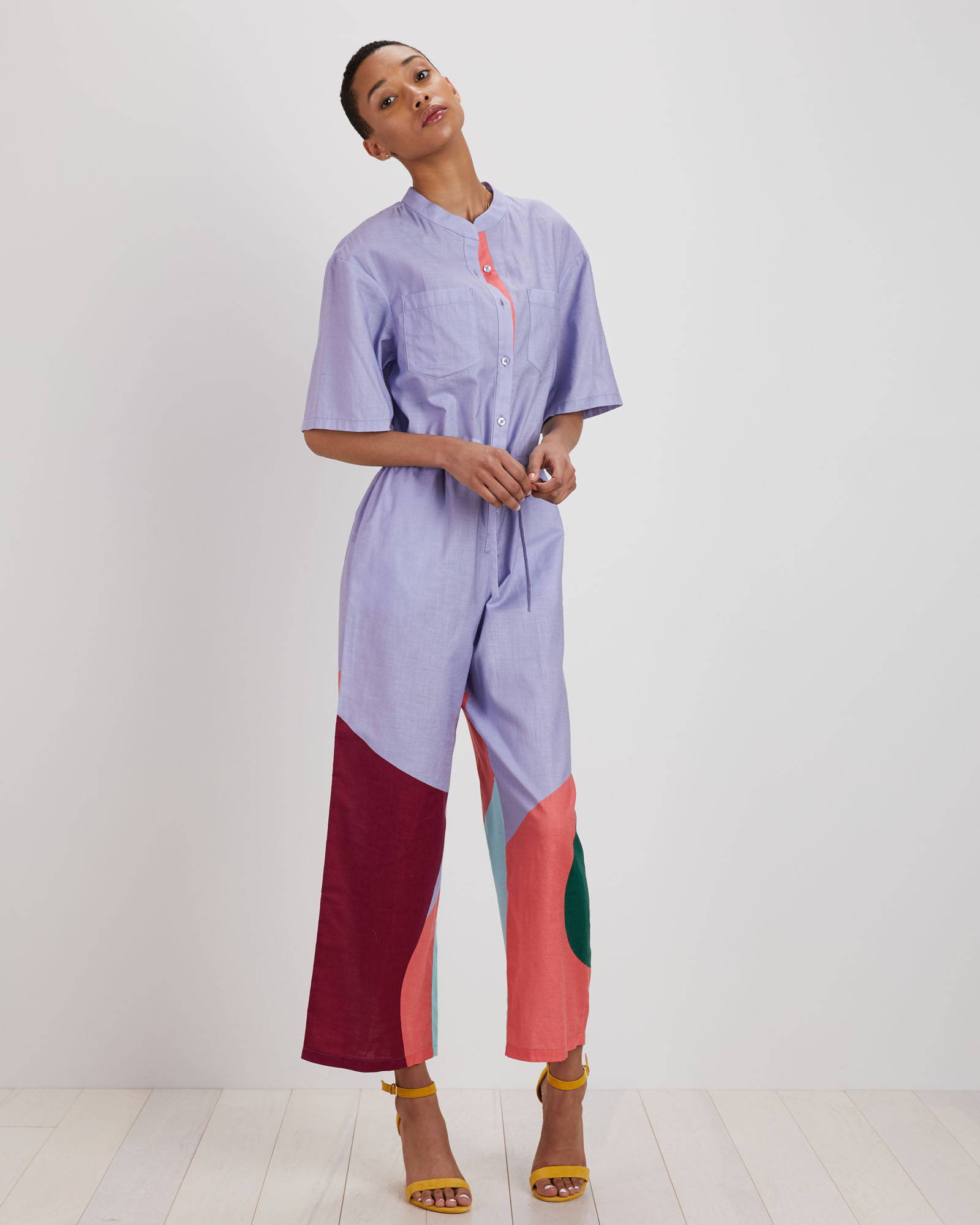 ---